Exploring ways creativity can build connections in our community through hands-on learning, making, and giving.
Dovetails is now finished! 
We would like to thank

everybody

who chose to take part for all of their hard work, as well as the fabulous 

Kids Kabin

and

Beamish Health and Wellbeing

staff and volunteers.
Workshops were provided amazing support by academic collaborators outside the Ageless Citizen: Jill Brewster, Rickard Whittingham, and Sebastian Prost. Dovetails was also given invaluable support from 
Johnny Hayes, our technician in Northumbria's Design School.
With more projects together yet to come, here's a rundown of the fantastic work made by Kids Kabin and Beamish Museum's Men's Group.
On a cold December morning, around 40 people met in the Orchard Cottage's allotment garden at Beamish to see what the groups had made for each other. We showcased

4 beautiful pieces

: 
1. 'FlexiGames'
for Kids Kabin, by Beamish Men's Group members: William, Alan, Brian, and Ray.
2. Tambour Door Tool Cabinet
for Kids Kabin, by Beamish Men's Group members: Les, Fred, and Joe.
3. 'Our Lucky Shelves'
for the Men's Group's shed, made by Lucky from Kids Kabin.
4. Carved Garden Bench
made for the Men's Group's garden, by over 10 Kids Kabin members.
FlexiGames, named by William, is a modular play set – giant wooden posts can be joined together and mounted into plywood bases using oversized oak nuts and bolts which feature hand-carved forget-me-nots, the symbol of Dementia friends. 
Kids Kabin can store FlexiGames in their space in Cowgate and use it to build football goals, a netball/basketball court/ hurdles/rounders/cricket games/target practice/shadow puppet theatres/dens and much more. 
The pieces are made from engineered glue-laminated redwood, birch plywood, and solid oak and can be used inside or outside. 
This project thoughtfully responds to Kids Kabin's limited access to space to store materials – and their focus on imaginative play and building.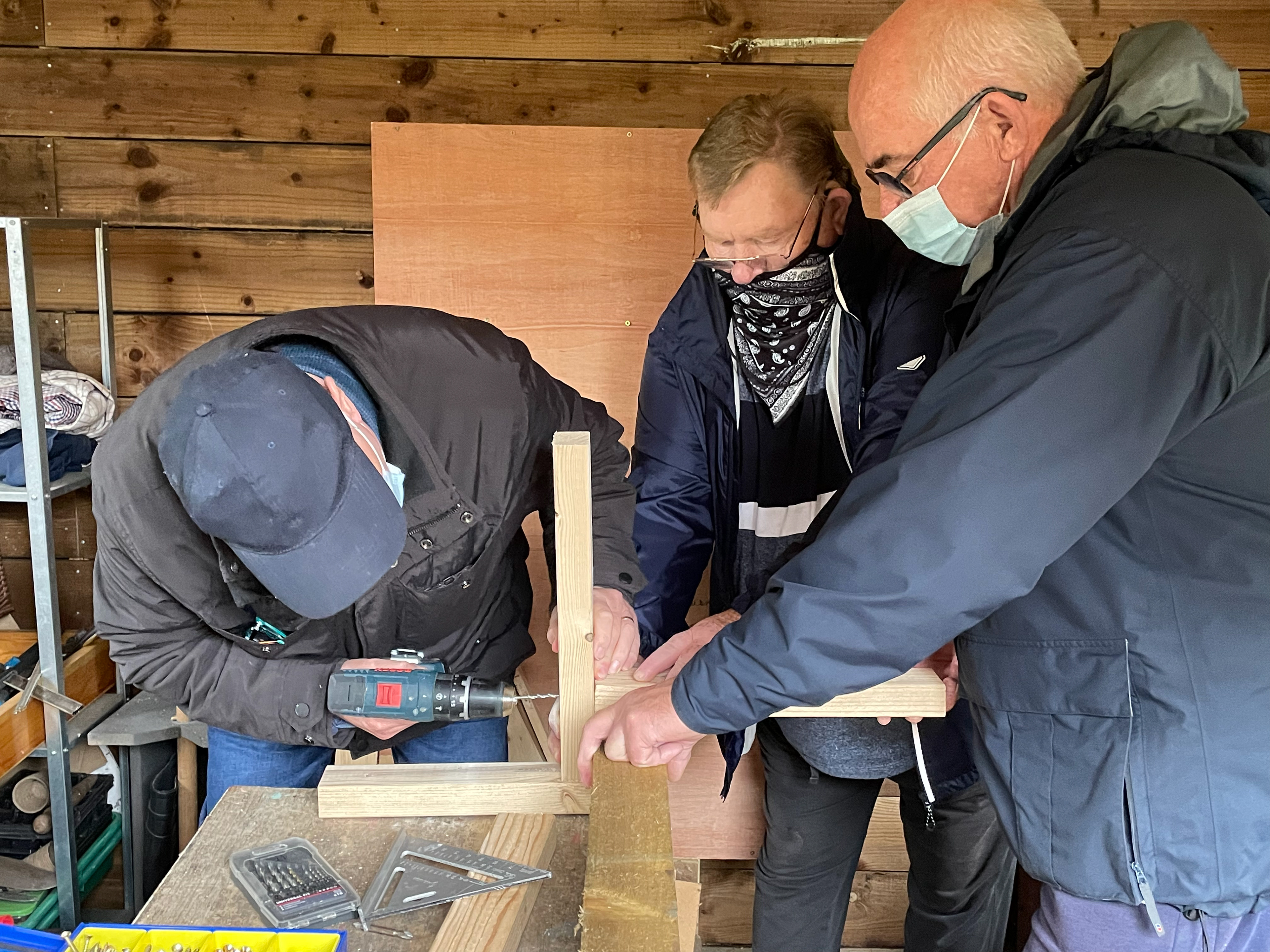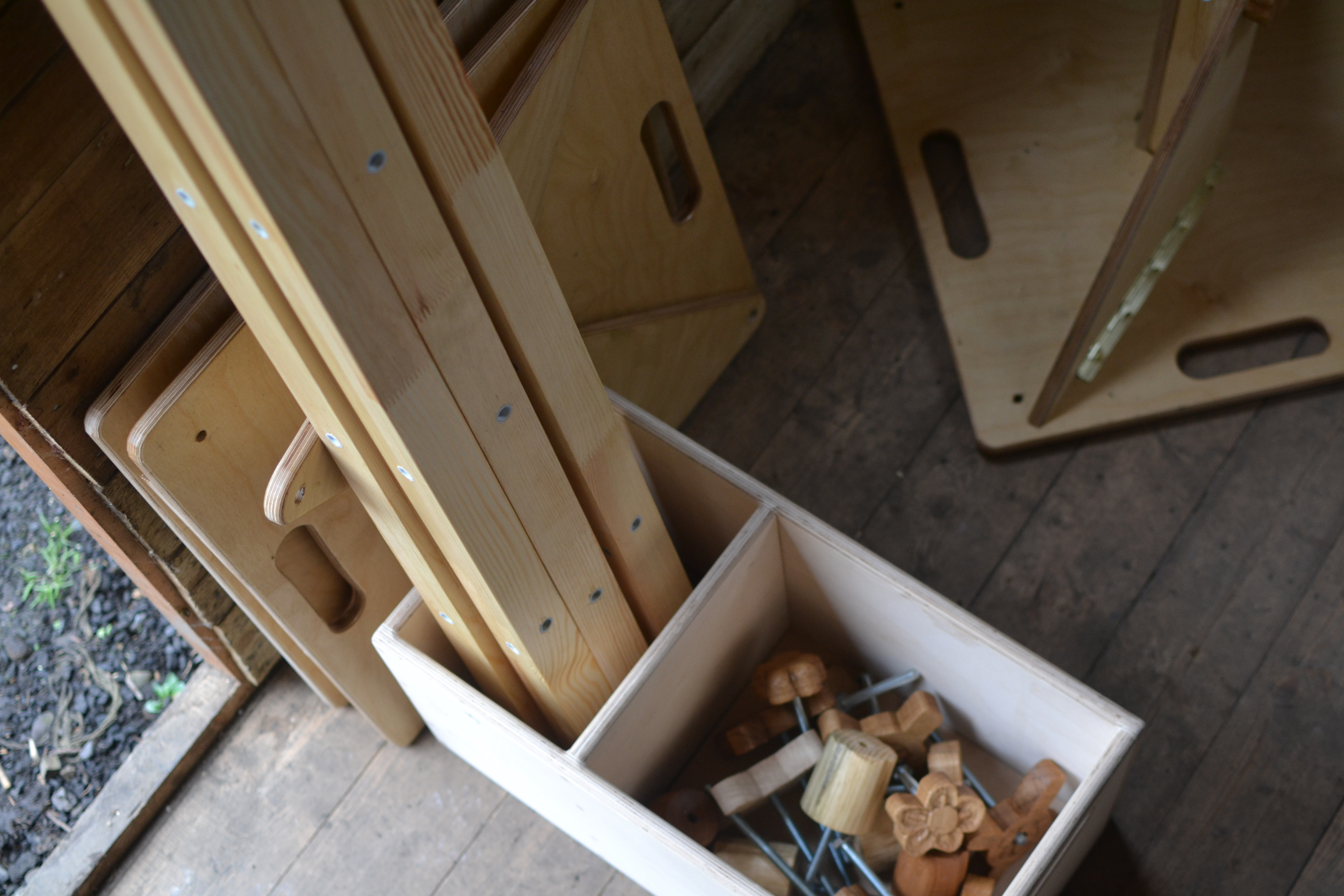 Tambour Door Tool Cabinet
Designed to fit perfectly onto Kids Kabin's workbench at Cowgate, this tool cabinet features a rolling 'garage' door finished in oak, with hand-carved handles to match, which bear the names of Beamish and Kids Kabin. 
Kids Kabin can slot this onto their workbench to keep their woodworking tools organised and stored in as yet unused vertical space at Cowgate. Rubber feet allow the cabinet to be placed outside on the floor – supporting Kids Kabin's work in the community as they do woodworking activities in the local area. The back of the cabinet also has a blackboard for design work.
 
This refined piece was the result of the afternoon group working tirelessly and with a warmth of spirit that made problem solving a joy! The finished result has given immense satisfaction to the members, has impressed their families, and has shown Kids Kabin how highly the Men's Group members value their work, and want to see I shown off in the best possible light.
Lucky chose to build a storage solution for the Beamish boys' messy shed. Through 5 iterative prototypes, he worked tirelessly at Kids Kabin's tiny workbench to deliver the most beautiful set of shelves ever to grace a shed! 
Built in Birch Ply and Iroko, the cabinet allows the Mens Groups to store their timber laterally along the shed wall in four generous compartments, with miniature pegboards for woodworking tools and reinforced batons for heavier/bulkier items to hang on the shelves' front face to make the most of the space in the shed.
 
The piece is detailed with iIroko plugs to contrast the birch ply, matching the iroko legs. The leg structure is built using ambitious hand joinery, representing the most significant woodworking project Lucky has ever attempted.
 
The care and attention Lucky put into his work was evident to everyone on the project, from arriving early each week, supporting younger children, and staying late to clean up after each session, Lucky has given those who worked with him (Rickard, Sebastian, and Henry) such joy through his work. It was clear to the Men's Group that this was a special project, and as a surprise for Lucky they arranged for a brass sign to be put up in the shed above his piece, bearing the name

'Our Lucky Shelves'

.
Midway through the project I was struggling to recruit Kids Kabin's younger members to get involved in Dovetails. Ambitious solo projects did not suit the cadence of Kids Kabin Cowgate. Will (Kids Kabin boss) suggested we all collaborate on one big piece instead of trying to work on smaller individual projects.
 
The result is a charming iroko bench, tattooed with over 10 Kids Kabin members' favourite things, their experiences of Beamish, and imagery from the Mens Group itself, as well as the name of every Mens Group member, past and present, with lots of room to grow!
 
Unveiling the bench was the star of the show on Saturday, all the work culminated in a beautiful and unique piece, which talks to the character and spirit of both Kids Kabin and Beamish.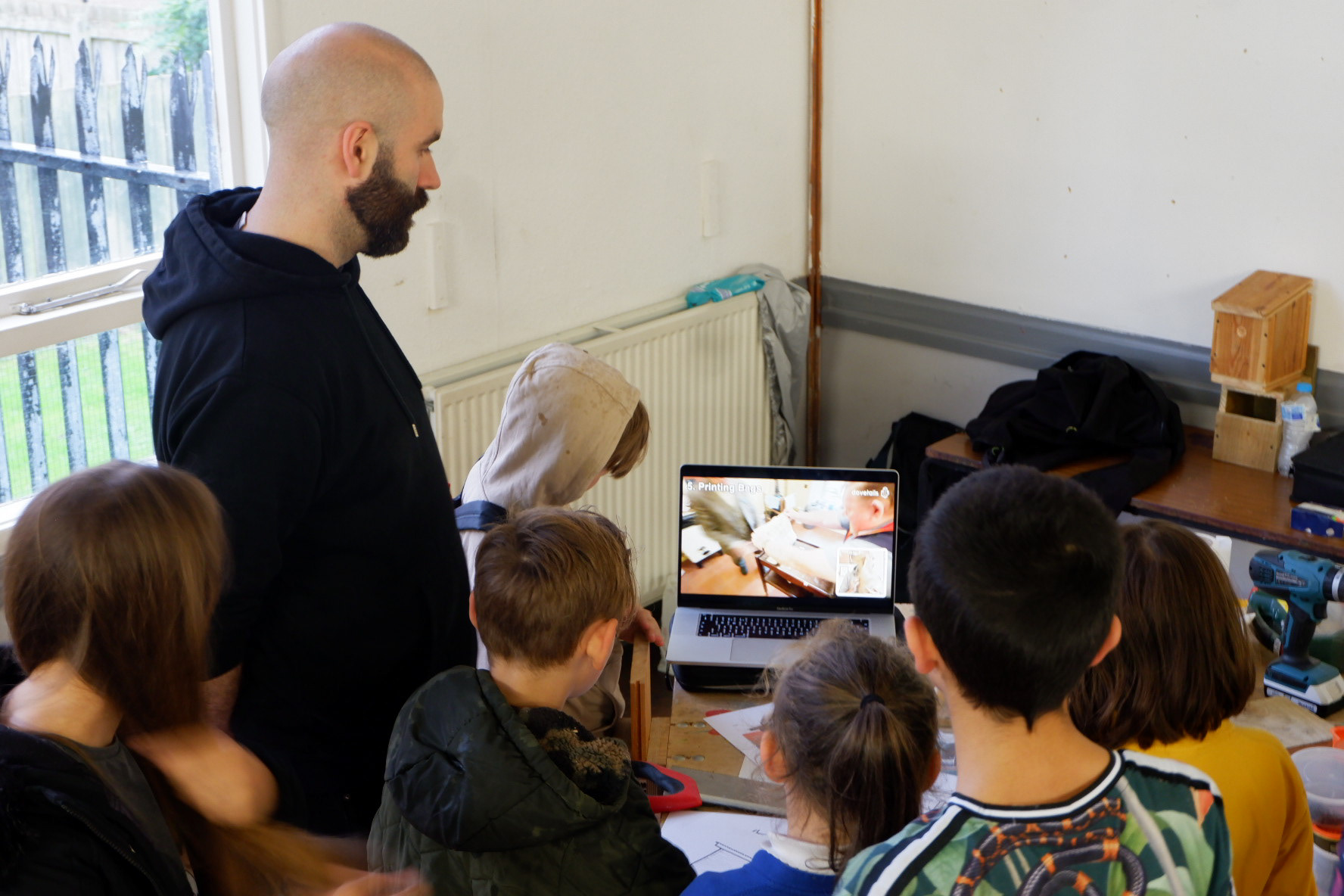 ​​​​​​​
Creative Lives Podcast
Hear Michelle Kindleysides, our project partner at Beamish Museum talking about the project on UCL's Creative Lives Podcast this month, (around the 15 minute mark).
Click through to Beamish's Facebook page to read more about the celebration we held at Orchard Cottage in December.
Please get in touch with the team using the details on this website, or via the contacts on the Information Sheets provided, which you can also download below.